Thank you to Valtron for informing me of M1 2017 Q1 result announcement, otherwise i would had not notice it because I was very tied up with all the updating works as more companies' annual reports are out. Usually the first half of the year I will be very busy and once I clear all these updating works, I will be very free.

M1 operating revenue increased 1.2% to SGD261 million as compared to the same corresponding period of 2016, as a result of increased in customer base by 27k to 2.05million. However profit margin was further squeezed due to lower consumption in roaming services, its operating profit before interest, tax, depreciation and amortisation fell about 8% on a year on year basis to SGD79 million. Nevetheless on a quarter to quarter comparison, its operating profit increased from SGD72 million in 2016 Q4 to SGD79 million in 2017 Q1, representing a close to 10% increased in operating profit. This could indicate that earning decline had ceased and a recovery trend has began. Further observation are still needed especially on result that show year on year improvement. Hence, investors are encourage to continue to maintain your faith on M1 and its management, give them time to slowly revert their earning back to an uptrend basis. Although its operating profit had fallen in Q1, it is within my expectation and most likely Q2 may still reflect a lower earning as well. Hopefully from Q3 onward, we will be able to see a recovery in its earning. With that, I continue to maintain my estimated fair value at SGD2.55

I would like to take this opportunity to share further on the concept of intrinsic value and target price using M1 as an example. My target price or fair value differ from most analysts reason being is different valuation methods result in different outcome. To calculate intrinsic value, cashflow method is the most desired way of doing so because it estimate a stream of future cashflow from a company operation discounted to present value and added on to its existing NAV or shareholders' equity. Other valuation method such as the PE method, strictly speaking they are not tools to be used in assessing intrinsic value. PE basically is a reflection of a market assessment via price on a company earning. Hence, what's the market think may or may not be right and I hereby use M1 as an example to illustrate what I have mentioned.

As mentioned numerously in my SJ posts, the formula for cashflow method is net NAV/book value+stream of future cashflow (minimum 10 years) discounted to present value. From the table below, we can see that the past 10 years of M1 NAV was rising steadily from SGD0.39 in 2006 to SGD0.47 in 2017, about 21% increased over the past 12 years. In 2007, its NAV dipped significantly to SGD0.23 from SGD0.39 in previous year due to M1 gave out a one time special dividend and over the years it also paid out majority of its earning back to its shareholders in dividend. I had mentioned before in SJ, a company that pay most of its earning in dividend, in the long run it is actually not beneficial to its shareholders because instead of giving back the cash to its shareholders, the company can reinvest it and compound to grow its NAV at a faster rate. From M1 example, over a 12 years period its NAV only grew by 21%, which is less than 2% a year, this is definitely not beneficial for an investor who invest on a long term basis. In the short run, investors will rejoice because they receive hard cash in dividend every year but the opportunity cost is the company will grow at a slower rate.

Operating cashflow fluctuate within the range of SGD70million to SGD209million over the past 12 years. From the table, we can also see that operating cashflows are not consistent and it will be even more volatile for a cyclical company because negative cashflows are very common for such nature of industry. When we sum up the latest M1 NAV and its discounted operating cashflow, M1 intrinsic value is SGD1.88 which is a great different from my target of SGD2.55. why is it so? Reason being is M1 price was supported by its dividend and prevented its price from falling below its intrinsic value. Hence, a higher dividend yield help to create stability in share price but the opportunity cost is the company will grow very slowly. If M1 were to stop paying dividend, its price will immediately crash below its intrinsic value but over time its intrinsic value will increase at a faster rate which will ultimately bring up its share price in the long run. Thus, so long M1 continue to pay high dividend, cashflow method will not be a good method for assessment due to the distortion caused by its dividend yield. On the other hand, if we use a dividend growth model or a PE method which i had used, we will get a higher fair value as compared to the cashflow method. This is the reason why my fair value differ from some or most analysts. From their fair value, i will know what method they used in their assessments. They are not wrong and neither am 1 right, I'm currently right because of the high dividend which M1 is paying. Thank you...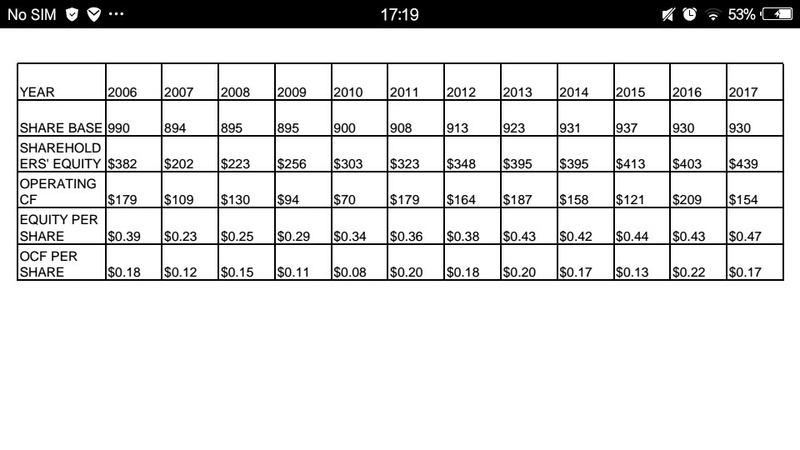 Admin




Posts

: 18


Join date

: 2017-04-09




---
Permissions in this forum:
You
cannot
reply to topics in this forum